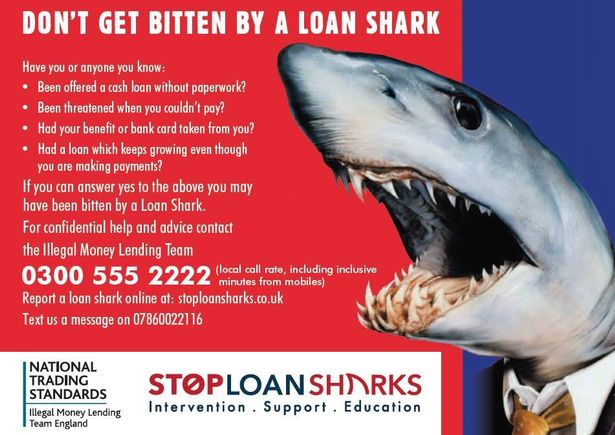 The England Illegal Money Lending Team are working with Citizens Advice Bristol to encourage those seeking debt advice to tell the full story. Often when individuals present themselves to seek debt advice they may not be willing, or feel able to open up about using loan sharks. It is always extremely important that when debts are being looked at those giving advice can see the full picture, otherwise any payment plans made will simply fail and the situation can deteriorate.
The England Illegal Money Lending Team and Citizens Advice are raising awareness across Bristol to encourage the reporting of loan sharks. From this Mon, 23 May, Citizens Advice Bristol will highlight the dangers of borrowing money from loan sharks across their drop-ins and outreaches.
Loan sharks operate illegally, without the correct permissions from the Financial Conduct Authority. These criminals usually appear friendly at first but quickly trap their borrowers into spiralling debt. As the debts can't legally be enforced many lenders will resort to the most extreme and callous methods to enforce repayment.
Paperwork is rarely offered so victims are often in the dark as to how much they are actually paying. Exorbitant extra amounts and interest are added at random – the highest interest seen by an illegal lender was equivalent to 131,000% APR. In some cases the loan sharks have been known to take items as security including passports, driving licences and bank or post office cards with the PIN in order to withdraw directly from borrowers' accounts.
The England Illegal Money Lending team will deliver a series of training events for money advice workers in Bristol on Wed 25th May. The training will give a better understanding of how loan sharks operate, what to look out for and give advisers the confidence to encourage clients to tell the full story when they are resolving their debt issues.
Matt Rogers from Citizens Advice Bristol said: "loan sharks are often embedded in the local community and hard to identify. If you have borrowed money from a 'friend' and are worried that you won't be able to pay it back, come and talk to one of our money advisers".
Tony Quigley, Head of the Illegal Money Lending Team said: "We are continuing to crack down on illegal money lending and bringing those who break the law to justice. It's important to remember that loan sharks are only motivated by greed so should never be used. We would urge anyone with information about loan sharking or victims of loan sharks to contact the team on 0300 555 2222."
Nationally, Illegal Money Lending Teams have secured more than 336 prosecutions for illegal money lending and related activity, leading to nearly 217 years' worth of custodial sentences. They have written off over £63 million worth of illegal debt and helped over 27,000 people.
To report a loan shark:
Call the 24/7 confidential hotline 0300 555 2222
Text a report to 078600 22116
E-mail reportaloanshark@stoploansharks.gov.uk
Private message www.facebook.com/stoploansharksproject